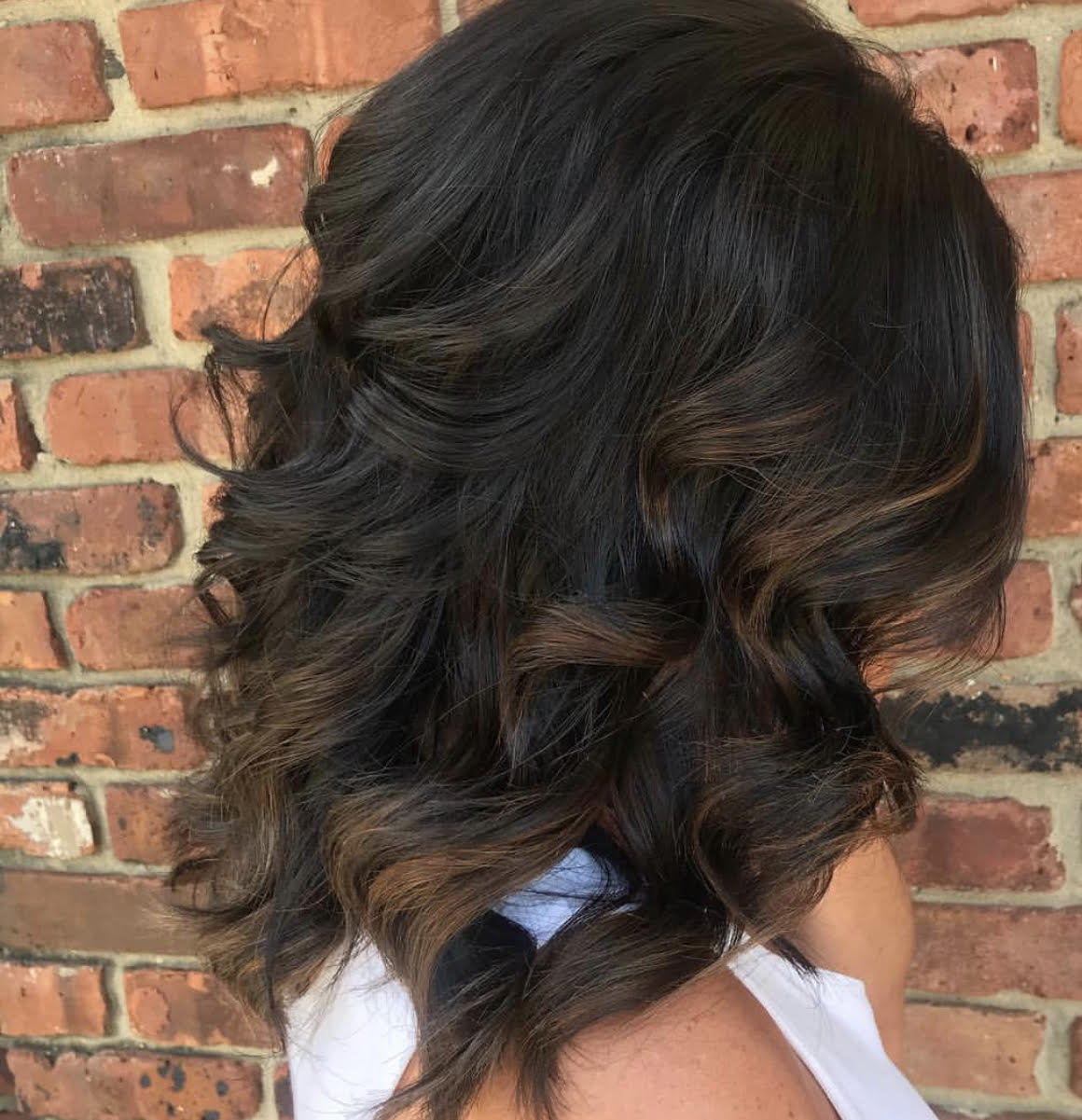 Haircuts Styles
With our experiences and continuing education, we are ready to serve you and your beauty needs. We will help you decide the best look, and deliver just the right services to achieve it. Our comfortable, relaxed atmosphere is designed to make you feel great!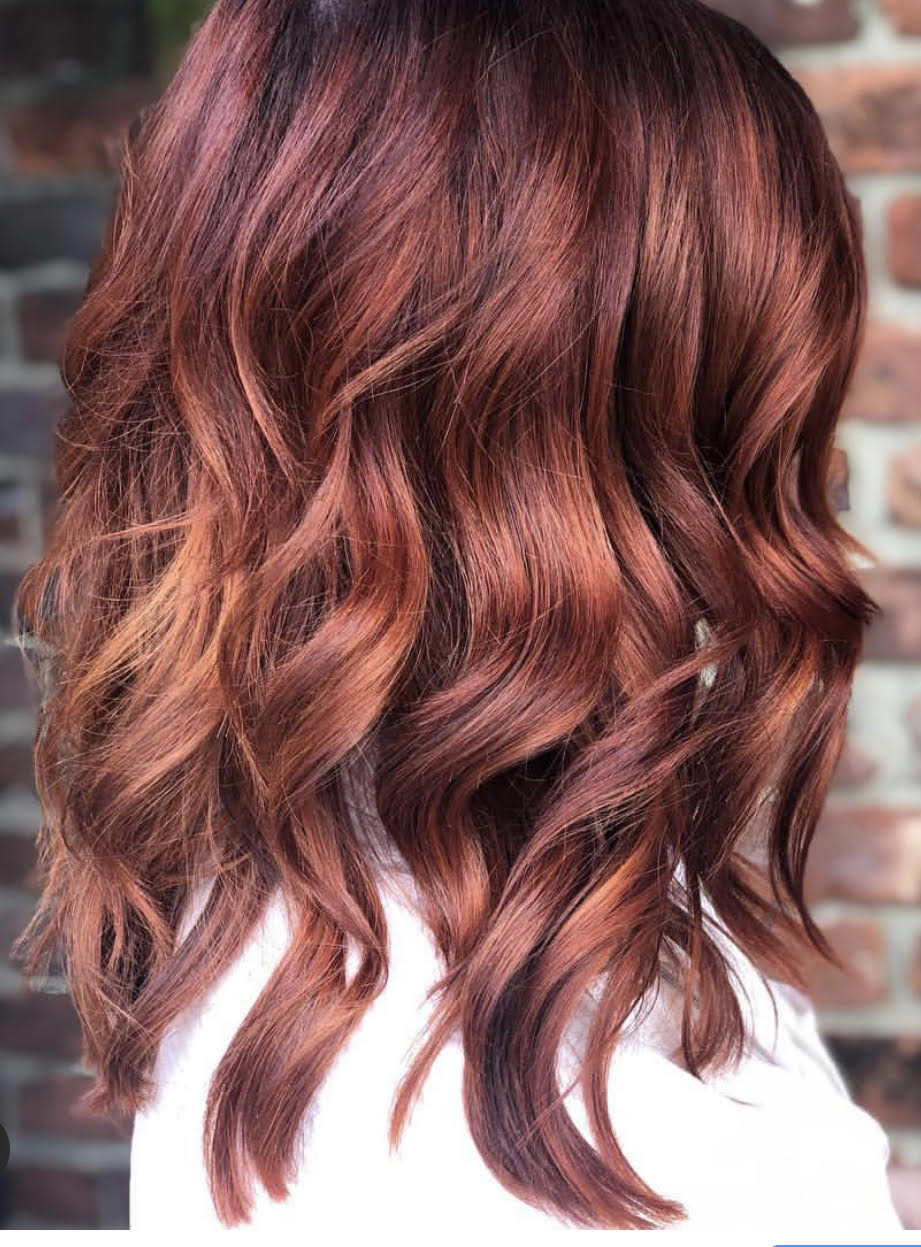 Color
 Services
Adding color, dimension, or texture can be a great way to enhance your natural look, allow you to standout as an individual, or simply cover grays. Keeping the integrity and condition of your hair healthy is our first priority. Portray clients are always assured that a thorough consultation is included with each chemical service.  Let us take the time to sit with you and find the look that will work best for you.
Tired of your color fading when you walk out the door?  We give a 100% guarantee
that your color will last you until your next touch up with our products available for retail of color shampoo & conditioner made specifically for your hair color.
Whether you are going for a total look change or just to add light reflections, or highlights service or gray hair coverage, your choice may be difficult for you, let us use our experiences and knowledge to create a beautiful you!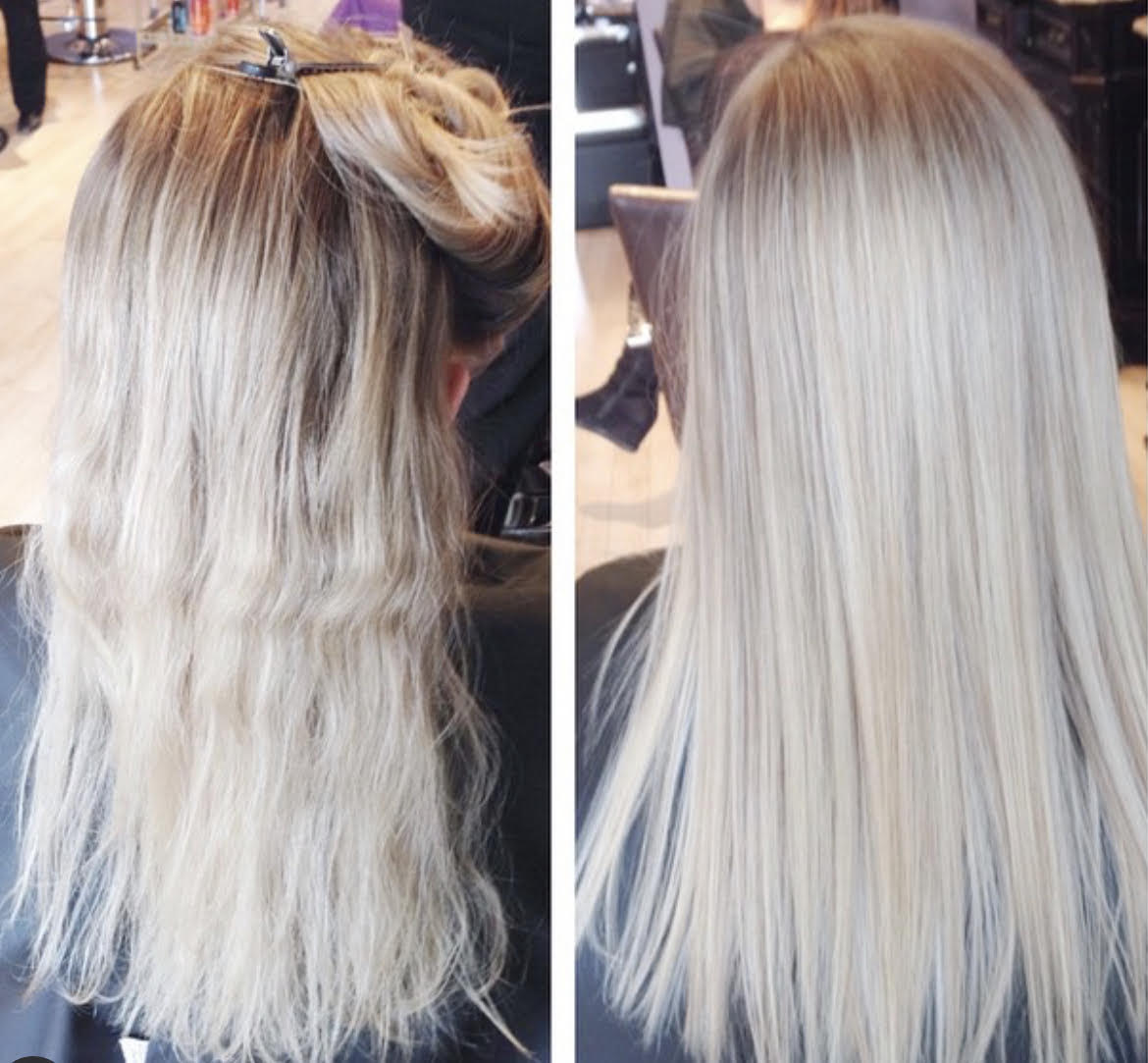 Keratin Treatments
Keratin Treatment is a revolutionary process that transforms the hair. The treatment is Keratin
based; keratin is the primary protein of the hair, skin and nails. This natural substance gives hair the ability to return to its original healthy, shiny, and smooth state.  It is neither a traditional relaxer nor a straightener that can only be used on certain types of hair.  In fact, there's nothing traditional about this new type of service.  It does not involve a harsh chemical treatment process that can over process hair and leave it in poor condition.  The Keratin Treatment is a universal product and can be used safely on just about any type of hair – dry, frizzy, over-processed, color treated, ethnic, or even unprocessed virgin hair.  Just about everyone can get the same great results – healthy, shiny, frizz-free, manageable hair.  Unlike other products available on the market, such as crème relaxers or the Japanese Straightening System, Keratin replenishes the condition of the hair without damage or change of its molecular structure.

The application process takes on average 2 hours depending on the length and thickness of the hair. After product is applied, it is infused with a 450-degree flat iron, which traps moisture, hydrates the hair, and creates a glossy finish. Results are visible immediately after the treatment is completed. Clients are amazed to say the least. Hair looks shiny and youthful. 
Management of hair after the  Keratin Treatment is effortless.  The amount of time required to style your hair will decrease dramatically. This treatment restores hair resiliency. Humidity, rain, or perspiration will no longer affect your hairstyle.

The results last for months; the treatment dissipates gradually as hair is shampooed. As clients repeat the treatment, they will be able to observe the improved quality of the hair.
Receive a complimentary sulfate free shampoo & conditioner with treatment.
Halo Couture Extensions…
Beautifully transform your look… with the rich fullness, silky texture and stylish design you have always dreamed about.
Treat yourself with a luscious full head of hair… each halo has over 100 grams of the finest quality Remy hair to add luscious volume and length. No need to purchase many individual units to piece together a full head of hair, one single halo has over 100 grams of 100% Remy human hair. So with one halo, you get all the volume and length you need to add thick, rich body and style instantly.
Experience 100% Remy Human Hair… the finest quality human hair available on the market today. Remy Hair refers to human hair that retains the cuticle layer, the outer most part of the hair strand, flowing in the same direction, flowing the way hair does naturally. The delicate process which maintains the cuticle in hair wefts is the key advantage of Remy hair keeping it soft and silky, smooth and shiny, long-lasting and tangle-free. Simply put, Remy Hair is gorgeous hair!.
No Damage to your hair, No Complicated Process… no weaving, no clips, no glue. No complicated and lengthy process. That's right, you are not going to be stuck in your stylist's chair for 7 hours! Halo Couture Extensions easily attaches with a miracle wire that will not damage your hair. Quickly customized to fit your head in just a few short minutes. Now you have a real alternative that is truly quick and easy with the same satisfying results. So there's no sacrifice. In fact, you get a full, gorgeous head of hair in one halo and get to enjoy the rest of your day looking your best.
So Quick & Easy… Quickly and easily transform your hair. Add or remove length and volume instantly. Whether you want to step-up your glamour on those special nights out on the town or want to simply enjoy the added beauty everyday to work, Halo Couture hair is so quick and easy to add or remove length and volume instantly.
Reasonably priced… Halo Couture is the finest quality Remy hair at an amazing price that will not break your budget. Halo Couture is thrilled to take advantage of the processes today that make gorgeous Remy human hair very reasonably priced. And we are pleased to pass that benefit right on to you, so you can enjoy the pleasure of transforming your hair with rich, silky, luxurious length and volume without breaking your budget.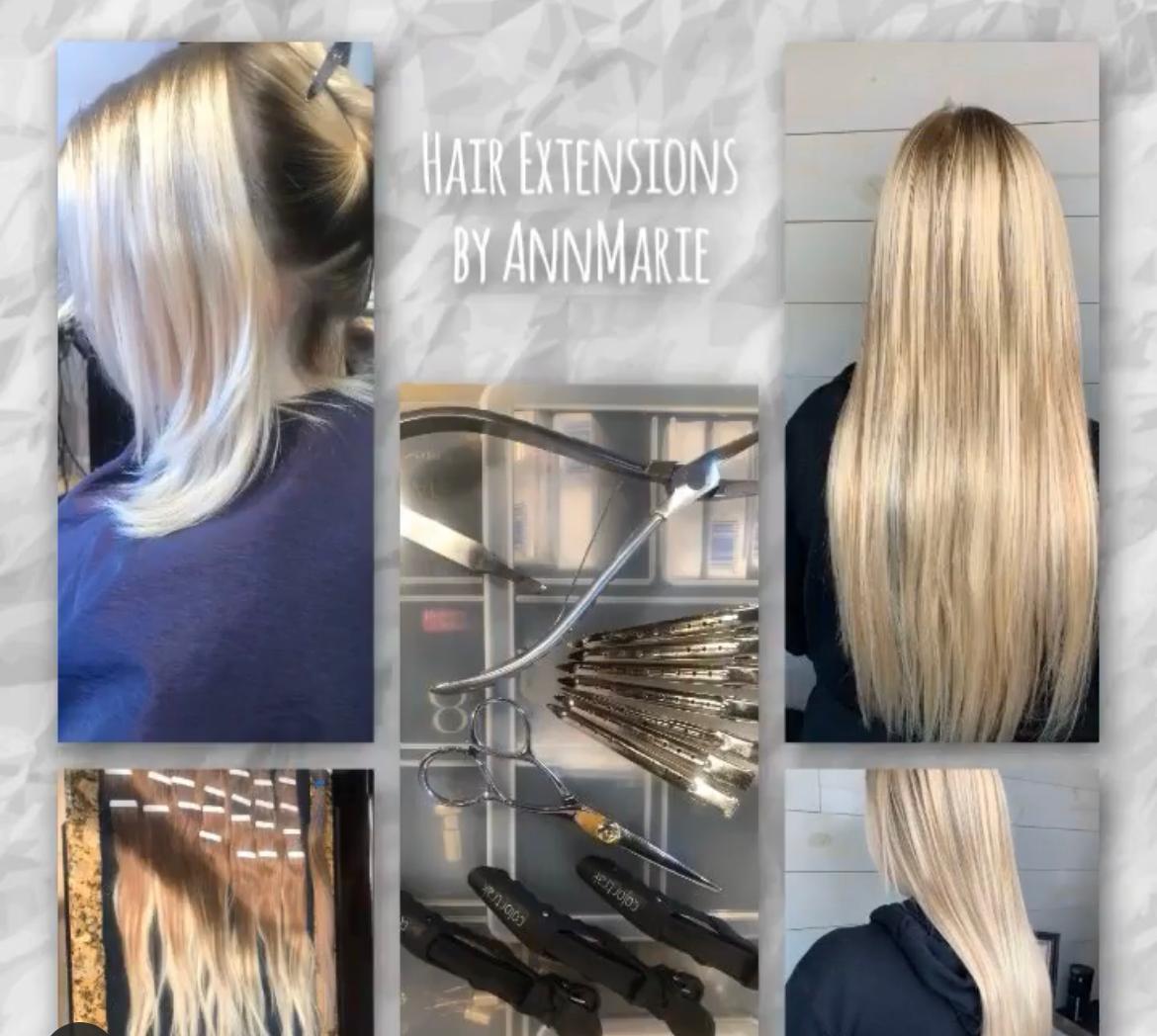 Tape-In Extensions
Halo pro tape in extensions is 100% Remy hair. Lengths come in 14″, 18″ and 22″.
Application takes 2 to 3 hours to apply and lasts 6-8 weeks.
They can be removed and reused.
Complimentary consultation and color match.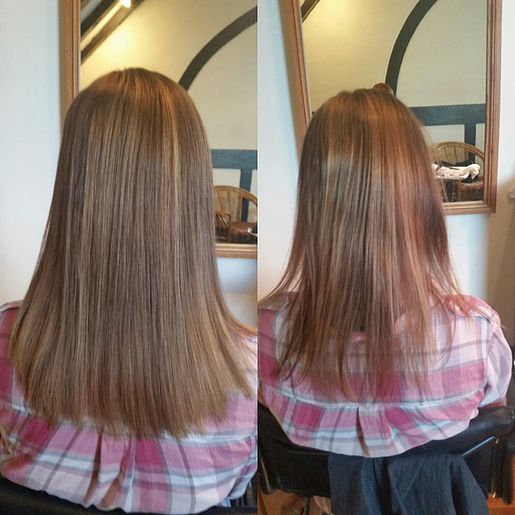 I-Tip/Micro-Cylinder Extension System
Finally!… A hair extension system that will not damage your hair! No Glue! No Heat! No Sewing or Braiding! Just Beautiful, Healthy and Quality Extensions.

How Does It Work
Using 100% Human Remey Hair. The hair is applied with a simple unique method. Unlike other methods, the process uses no Braiding, Sewing, Heat or Glue, and is safe and painless to apply.

Will It Damage My Natural Hair
With the I-Tip/Micro-Cylinder method, there is no tension, stretching, chemical or heat used during the application or the take down process. This method is the Safest Extensions available today.

Will The Hair Match My Color
Absolutely! I will match our color perfectly.

How Do I Care For MY Extensions
You can color, perm, style your hair like normal. Even use your favorite tools, like flat irons, curling irons and hot curlers.

How Long Do They Last
With regular maintenance, the life of your extensions is up to you. Most people can go up to 3 months before needing any service on their hair.

Can You See Them
The I-Tip/Micro-Cylinder system has a wide range of colors to blend naturally with your own hair…Only You Will Know! 
Hand Tied Hair Extensions
Regardless if you are driven to turn up the volume, add length, correct a haircut, or create amazing color without chemicals, Amplify Handtied hair extensions rock! Each strand of 100% cuticle intact Remy human hair is meticulously handwoven to nylon thread, creating an 11" thin, flat, flexible, durable weft.
The thin flat profile allows the seamless combination of multiple colors and or lengths within a row allowing stylists to maximize their creativity through the creation of unique custom looks.
This cute little box is both stackable and smart with a great recyclable footprint. The easy to read outer label displays color and length details so you can find what you need in a flash. Go ahead and stock up, you can store these beauties safely and securely without sacrificing salon spaces. Rock on!
Nail Waxing Services
Our hands are an important part of our communication. They can be the first impression we give when we shake hands. When we caress someone, we want our touch to be soft and gentle. At Portray we offer several manicure services. You're sure to find one suitable for you.
Manicure $14
Keratin Manicure $20
Polish Change $10French $5 extra
10 minute Hand or Foot massage $10
WAXING
Ongoing Specials at Portray Salon
*Refer a friend & you both receive 50% off your next haircut!!
Portray Salon Cancellation Policy
We know your time is valuable, and ours is too. As such, we respectfully request 24 hour notice for cancellations. 
. . .   
 24 hour notice is required prior to cancellation to successfully cancel your appointment with no service charge. 
  Day of cancellations will be charged half of the service amount to compensate for the stylists time. 
  No show appointments will receive a 100% service charge for a missed appointment. 
*price is based on the hourly rate of the stylist and the service time booked*
Refund policy
The employees of Portray Salon delight themselves on providing you with exceptional service and excellent customer care. 
We do not offer refunds on Salon services. However should you have any questions or concerns about the service you have received in the salon please notify the salon within two days of your service. If you are not satisfied with the work performed, we require that you return to the salon so that your hair can be visually inspected. At that time we will make every effort to make any adjustments on your satisfaction by rescheduling you with the stylist who performed the initial service,  adjustments are made available to you at no cost only within the two days of the initial service. 
Let's Not Wait for the Perfect Look